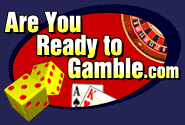 If you're ready to gamble online ...
Who doesnt want to gamble for free? Your credit card may not always be in a "state of readiness", so thank goodness there are lots of places online that you can gamble for fun. Blackjack, slots, videopoker and all the other popular casino games can be played online for free, and we've got all the links to prove it. Best of all, in a couple of instances, you may also stand the chance of winning free prizes when you play for free at certain spots.

Jackpot King
The Jackpot King is probably the best online spot that you can play videopoker, slots and blackjack for free. The Jackpot King offers two types of slot machines (Big Strike Slots and Royal Reel Slots), two types of blackjack (Jackpot Blackjack and High Stakes Blackjack) and a single Jacks or Better Video Poker game. The games are amazingly fast, with amazingly super graphics, plus a built-in chat so you can chat with other gamblers in real time while you gamble. That's just dandy in my view, so hats off to the Jackpot King for providing the best place online to gamble for fun. Last but not least, the Jackpot King actually offers you prizes for gambling for free. Use your points (the King calls them 'Bambles') to buy ballots for prize draws of free casino cash at various casinos. You can also use your Bambles to try and win free electronic gadgets. Check them out for sure, I can guarantee that you won't regret it.

Bettors Luck
BettorsLuck.Com has been operating online for a while now. They're not a casino, they're actually a casino portal; they offer the option to gamble for fun in their Games section. This section was re-launched in recently to include brand new slots, roulette, craps, videopoker and blackjack games.

Gambling Games
While not offering prizes as is the case with the two mentioned above, Gambling-Info.Net does deserve honorary mention in the top 'gamble for free' site listings. Why? Because of the change of pace, the actual type and variety of games that they offer. Here you can play roulette, keno, slots, blackjack and craps all for free. In addition to that, for each of these games, they offer a 'game guide' for each, so if you don't know how to play any of them, you can play and learn for free.